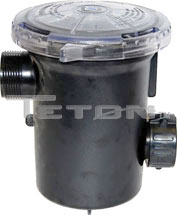 The Teton leaf strainer baskets offer a 90 cubic inch straining capacity for debris interception, which protects pumps and is also used to prime unique plumbing configurations.
The Teton mechanical pump float switch is a heavy duty design that comes with a piggy back plug for easy installation and independent mounting.
The Teton wireless pump remote gives you control right at your finger tips, allowing you to turn pump or other electrical device on and off from up to 70 feet away.